A History of Innovation
It was a bold innovation for the home-building market when we introduced an entryway door that looked as beautiful as wood and was more durable. At Therma-Tru, we have been revolutionizing the industry from the start—a spirit you can continue to expect from the leading entry door brand most preferred by building professionals.*
1962-1984
Our roots go back to 1962 when David Welles, a retired Owens Corning executive, purchased a bankrupt building supply company in Toledo, Ohio. In 1983, the company launched its Fiber-Classic style, the first fiberglass door on the market, creating a product never seen before: An entryway door that looked as beautiful as wood but with exceptional performance.
"People just couldn't believe it," says Deke Welles, the founder's son and President of Therma-Tru from 1989 - 2001. "The product that looked so good was actually made of fiberglass."
1985-2002
In 1985, we opened a 60,000 square-foot plant in Butler, Indiana. Within 10 years, we developed and introduced the Classic-Craft fiberglass door, followed a few years later by our Smooth-Star collection. In 2000, we patented our full door system.
2003-2016
In 2003, Therma-Tru became part of the Fortune Brands Home & Security family. And in September 2009, Therma-Tru and Fypon — the brand name leader in the urethane millwork — merged to bring their complementary products to market together. To meet the evolving expectations of our customers, we introduced our DoorWays App in 2015 to help homeowners visualize new doors on their own homes.
Today
Our legacy of innovation continues with an investment in our new Innovation Center, which opened in early 2018. Located in Monclova, Ohio, just minutes from our corporate headquarters, the Innovation Center is a 30,000-square-foot facility that houses our Research and Development and Product Management teams.
We are the nation's leading manufacturer of fiberglass and steel exterior door systems, and we are the most preferred brand of entry doors among building professionals.* Our attention to detail in styling, including our glass innovations, have brought improved curb appeal and value to our customers' homes, and the security and durability features built into every Therma-Tru door brings home comfort and security.
As we've expanded our product offerings, we've also joined additional communities. Today our corporate headquarters is just outside of Toledo in Maumee, Ohio, and our new Innovation Center is in Monclova, Ohio. We have two manufacturing facilities: One in Butler, Indiana, and one in Matamoros, Mexico. Fypon has manufacturing locations in Yantai, China, and Matamoros, Mexico. Our vast selection of products is available throughout North America.
We are committed to advancing the industry with quality products that hinge on performance and open the door to style and comfort.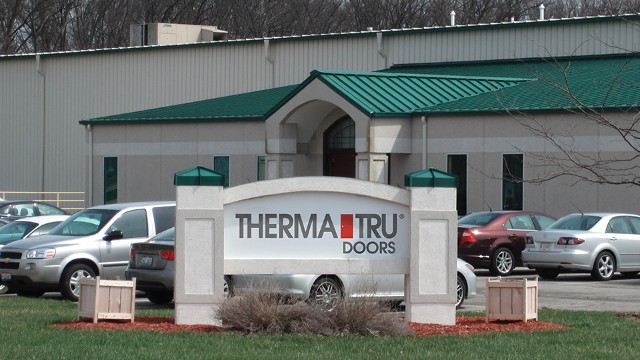 For Prices on any of the Doors Please visit our office and for more information on the different types of doors Please "Click" on the picture you are interested in. As well as, visit their website at www.therma-tru.com
Thanks!