In 1983, Therma-Tru created a whole new door category with the invention of fiberglass doors. Now, studies are showing that the fiberglass entry door category is the only growth area within the door industry. Therma-Tru continues to lead and grow the industry with innovative and technologically advanced entry and patio door systems. Attention to detail and unparalleled performance are just a few of the reasons Therma-Tru doors are the industry standard in excellence and design.Therma-Tru entry door systems are the brand that most builders and remodelers prefer.
Every line of doors Therma-Tru offers comes with a package of performance that is unrivaled in the industry. With a front door by Therma-Tru, not only will you see an increase in comfort, energy efficiency and performance, you will also see an increase in curb appeal. In fact, you can increase the perceived value of your home just by adding a Thema-Tru entry door system.
The 2010 Remodeling Brand Use Study (done yearly) shows that remodelers rank Therma-Tru as: #1 Brand Used in Past 2 Years and the #1 Brand Used Most.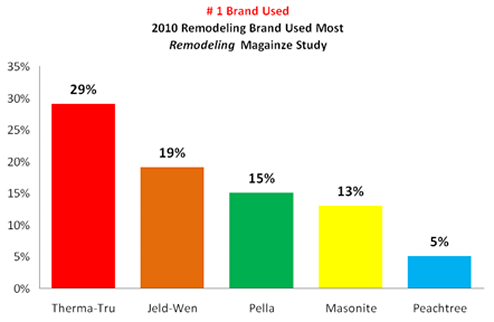 Therma-Tru's Profiles™, Traditions and Fire-rated steel door lines offer economical, safe, and durable options for your entryway. Secure your home and family with Therma-Tru's value-priced Traditions steel door. Our opaque doors without glass come with a 20-minute fire rating. All doors are available in ready-to-paint decorative designs that come with a tough 24 or 25-gauge smooth steel surface and a polyurethane foam core for durable energy efficiency. Traditions steel doors feature a solid wood lock block for secure mounting of hardware, decorative glass options, and a five-year limited warranty.
Get peace of mind by safeguarding your family from house fires with a Therma-Tru fire-rated steel door. These steel doors are rugged enough to give you 90 minutes of fire protection, yet stylish enough to offer a rich and distinctive look to your home. Whether you are looking for a door to your garage or to your basement, you can rest assured that you are getting added protection. Therma-Tru's 90 minute, fire-rated steel doors are available with distinctive options, including high-definition embossing and composite lock blocks for secure mounting.
For Prices on any of the Doors Please visit our office and for more information on the different types of doors Please "Click" on the picture you are interested in. As well as, visit their website at www.therma-tru.com
Thanks!