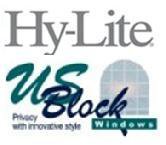 Decorative Glass Windows
Hy-Lite Decorative Glass windows provide the classic beauty of beveled leaded glass in an energy-efficient unit with a low-maintenance vinyl frame. Hy-Lite Decorative Glass is triple glazed: tempered glass inner and outer panes protect the decorative camed (leaded) pane in the center while providing thermal efficiency. Privacy is provided by the obscure glass pattern, making them ideal for bath, spa, stairway and kitchen applications. Available in a variety of shapes, patterns and caming colors to complement any decor. Meets R-65 performance ratings; built with genuine metal caming. Covered by our full 10 Year Warranty.
For more information Please visit our office or Hy-Lite's Website at www.usblockwindows.com
* " Click " on the Picture of the type of window you are looking for, for a detailed description of the Sizes and Patterns.